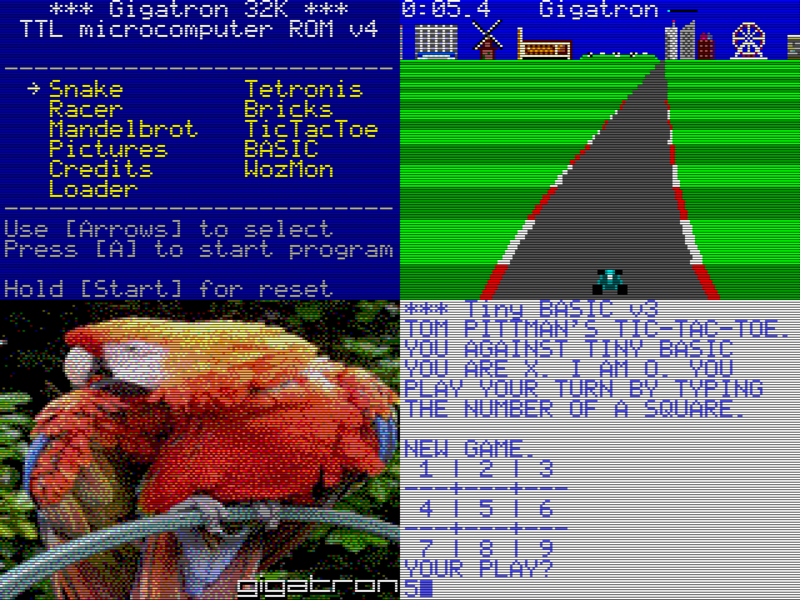 This listing is for the Printed Circuit Boards needed to build a fully opensource Gigatron TTL computer & accompanying PS2 keyboard adapter (AKA "Plugface").

A TTL computer is a computer where the components of the Central Processing Unit (CPU) are made out of individual Transistor-Transistor-Logic chips, instead of being integrated onto a single microprocessor chip. So, unlike almost all other computers, the Gigatron does not have a CPU chip - a feat of engineering worthy of study! The Gigatron TTL microcomputer is a minimalistic retro-style computer comparable in capability to the 8-bit microcomputers of the 1970s and 1980s.

This project is not for the compete novice! You will need to source all the electronic components to build the project and the project will require some skill in electronics to construct (and you will also need to write an EPROM with a suitable programmer). See the Mouser Project link below which may help you order almost all the parts needed.

You can order a set of bare Gigatron PCBs using the payment options below. These are also available on eBay to buyers in Australia (Complete kits are also available to buyers in Australia also).

Just to be clear: This is an opensource project (we did not design it) and we can not promise any direct support with construction or use of it. If you require general assistance with construction you will need to ask for help in the appropriate community discussion forums.

Gigatron TTL Computer Quick Links:
Gigatron.io main project website - includes the Gigatron TTL computer manual, guides, forum, blog, links and much more. Gigatron TTL manual - construction guide & user manual. Revised Bill-Of-Materials - different from the BOM available on Gigatron.io in that all the parts are from Mouser for ease of ordering (e.g. from Australia). Complete kits are also available to buyers in Australia. Gigatron TTL Mouser Project - instantly fill your shopping cart with almost all the components needed to complete your Gigatron by clicking here and ordering from Mouser. It can be a good deal considering their free shipping offer! Best effort has been made to ensure suitable parts, but the responsibility is yours to confirm suitability before ordering. Some parts, such as the IC Sockets and brass standoffs may be much more cost-effective purchased from eBay or Aliexpress. Wikipedia's Gigatron TTL page.